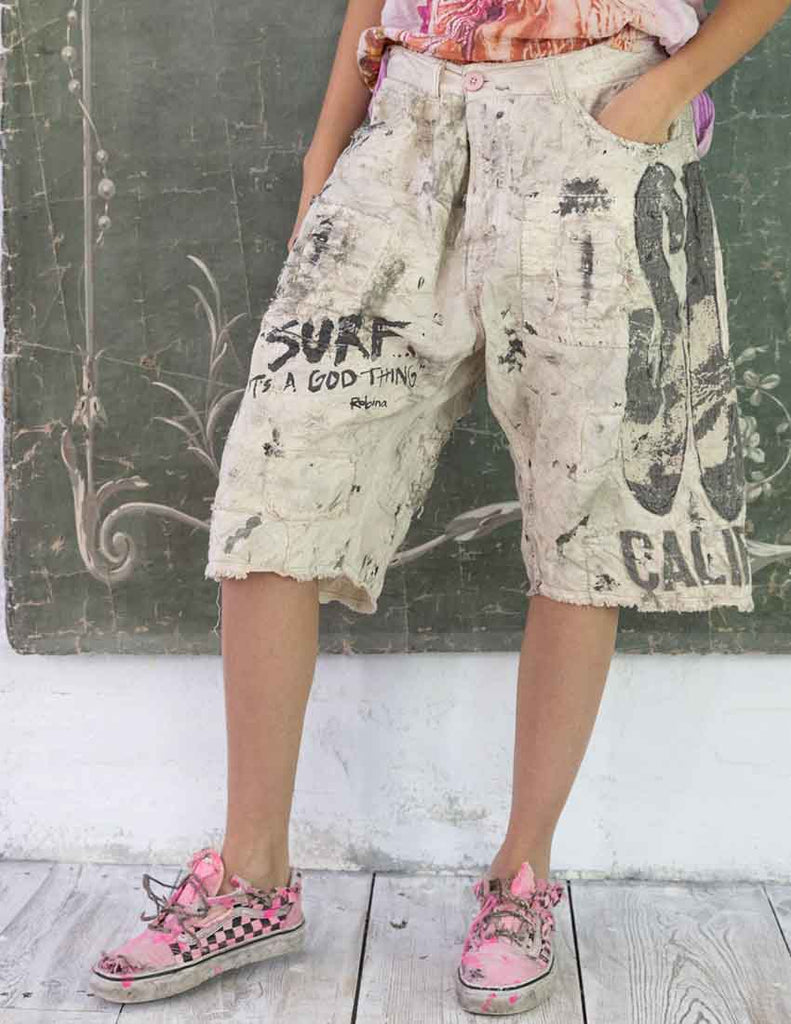 Magnolia Pearl California Miner Shorts
$1,080.00
42261
The Magnolia Pearl California Miner Shorts are Casual, chill, and properly carved - the Surf California Miner Shorts make it look easy, letting the work speak through play.
Key Features:
Soft and lightweight Cotton Twill 
Hand-Fading, Distressing, Patching & Mending
Paint & Stains
Mixed-Button Adjustable Waist
Adjustable Slide Buckle in Back
Raw Edges
"Surf California" Appliqué
"Surf: It's a God Thing" Printing
Front & Back Pockets
Belt Loops


Size: Suitable for a size 8-14 
Fixtures: Fitted with a 3-button closure on the front and adjustable waistband tie on the back waistline to help you take them in or out to your desired shape.
Magnolia Pearl sizing is all one size fits most, designed in a way that allows you to style it either fitted or oversized based on your body shape. More than just a fashion brand. Magnolia Pearl is a story, designed to help you tell yours. Their garments are just along for the ride, pieces of thread and light, sewn summations of surrender, and dreams, with a poem on the sleeve. 
Robin Brown, Magnolia Pearl's creator and designer, speaks in thread, her mother tongue. Piecing together a life of discarded scraps and torn fragments, Brown built Magnolia Pearl out of sheer hope. Launched in 2002 from Fredericksburg, Texas. What has grown over the years from these humble beginnings is nothing short of a miracle. Worn by celebrities such as Lauren Daigle, Taylor Swift, Kelly Clarkson and Whoopi Goldberg.