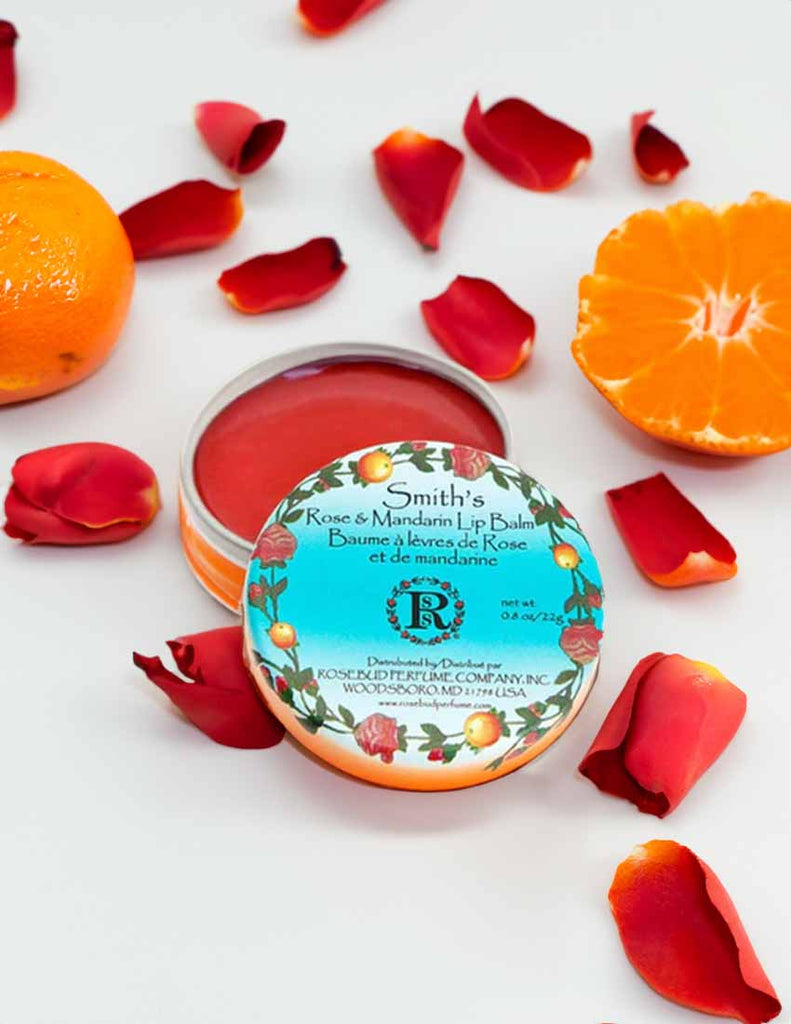 Smiths Rosebud Salve 22g Tin Lip Balms
$24.95
20348
Rosebud Perfume Co. has been a make-up bag staple since 1892. Offering an incredible range of lip balms to choose from, all with different benefits and properties. Smiths Rosebud is so popular at et vous, that we find it very tricky to have all flavours in stock at the same time!


Lip Balm Flavours: 
Rosebud Salve Original This cult favourite has been famous for over 100 years. Recently re-discovered by makeup artists around the world this legendary balm contains cottonseed oil and various essential oils including rose oil. Thanks to its gentle, restorative properties, it is the ideal companion for sunburn as well as assisting to soften rough, dry skin, redness and even nappy rash. Rosebud Salve is also perfect for travel as an eye make-up remover, cuticle softener, dry skin healer and frizzy hair fighter. Use Rosebud Salve around the eyes and on the throat for severely parched, dry, or wrinkled skin.
Smith's Rosebud Minted Rose Lip Balm A cult favourite! This yummy, minty-rose multi-purpose lip balm soothes dry lips, calms and heals irritation as well as soothing the sting of minor burns. Try dabbing on dry elbows or knees to condition, and relieve dryness. It also doubles as a delicious gloss! Enriched with peppermint oil for a super refreshing effect on the lips.

Smith's Rosebud Rose & Mandarin Rosebud's stunning Mandarin Rose Lip Balm bursts with a blend of fragrant essential oils and botanicals. The soothing formulation conditions skin and nourishes lips with the stress-reducing flavours of mandarin, orange and vintage rose. 
Smith's Rosebud Strawberry Revive and nourish chapped lips, cuticles and skin with Smith's Rosebud Strawberry Lip Balm. Formulated with natural beeswax and a trade-secret blend of strawberry flavours, the balm is a favourite of both celebrities and athletes. Apply liberally as needed throughout the day for soft, smooth and nourished lips, cuticles and skin.

Smith's Rosebud Menthol and Eucalyptus is soothing, cooling salve... Dr. G. F. Smith considered Smith's Rosebud Menthol Eucalyptus to be his very best formulation for the relief of cold sores, razorburn, Psoriasis, allergies, insect bites and minor abrasions. It's fragrance is aromatic and exhilarating. Not intended for use around the eyes.
Smith Rosebud Tropical Ambrosia Balm is a creamy, buttery mélange of coconut with overtones of juicy mango. This delicate and soothing lip or body balm is delightfully softening. Try it on elbows or dry chaffed skin, especially hands and cuticles. This tropical nectar is especially good as an all-purpose skin illuminator. Apply liberally as needed throughout the day for soft, smooth and nourished lips, cuticles and skin.


Smith's Rosebud Mocha Rose vanilla is an aromatic blend of creamy mocha and rich chocolate accented with a hint of vanilla and rose. The old-world coffee shop flavours and essential oils in Mocha Rose are enriched with shea butter and vitamin E. This emollient lip balm provides lustre and dewy moisture. You may wish to use this flavourful and supple balm to enrich parched skin. 


Smith's Rosebud Brambleberry Rose A blend of wild berry flavours with overtones of honey and vanilla. This emollient lip and body balm evokes the memory of a freshly baked berry pie.


Size: 22grams
Made in the USA.


The Rosebud Perfume Company embarked on a straightforward mission: to offer cost-effective, versatile products. Their renowned Rosebud Salve, a beloved cult favourite, has earned a reputation as a universal solution for various skin issues, ranging from blemishes to dry lips and elbows. As a family-run business, the Rosebud Perfume Company has left an enduring mark in the world of cosmetics. Established in the USA in 1892, Smith's Rosebud has a rich history.