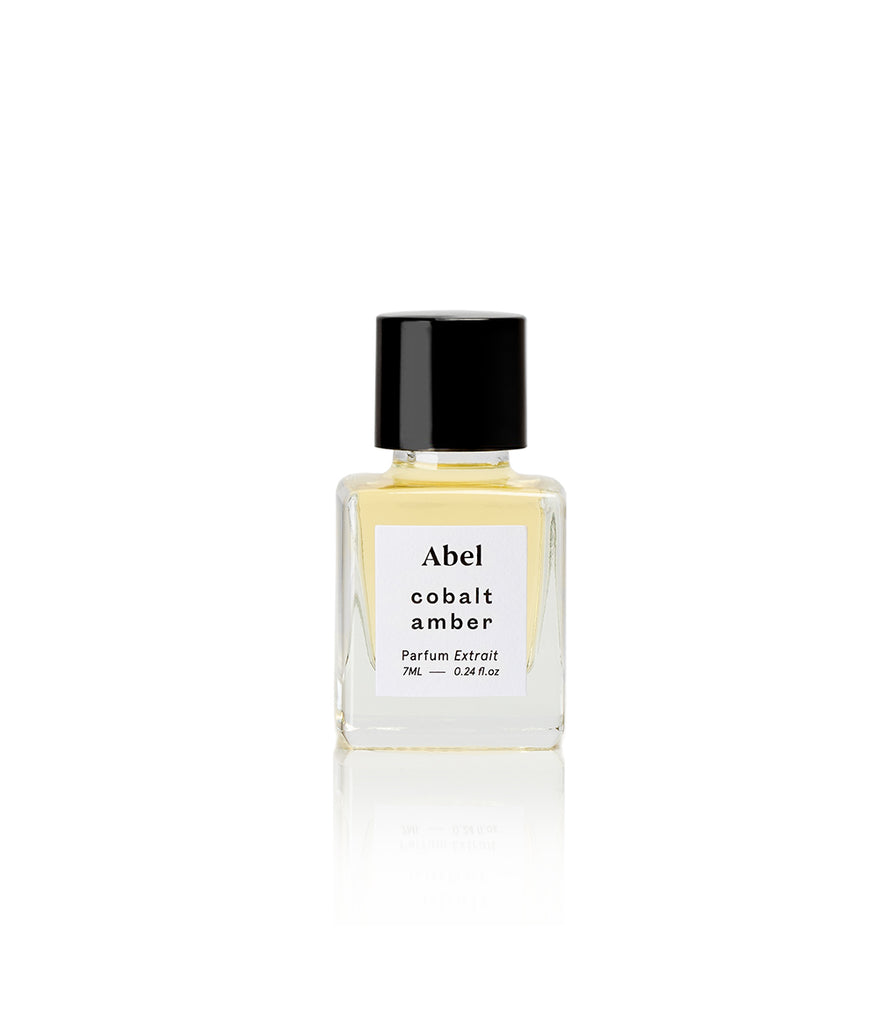 Abel Parfum Extract 7mls
$75.00
39332
100% Natural Parfum Extrait. Highly concentrated and rich in therapeutic-grade essential oils, this alcohol-free format is silky smooth on the skin. In a travel-friendly 7mL bottle, dab on pulse points for a restorative scent ritual in your day. All scents are an "Eau de Perfum". A small few drops on your skin are designed to last up to 8 hours something incredible you don't often find in other scents of this stature.
Learn about our perfumes:
white vetiver
A cool fresh Haitian vetiver that opens with a creamy lime and mint bouquet and closes with a subtle caramelised wood drydown. Top notes - lime, spearmint, bergamot. Heart notes - ginger, palmarosa. Base notes - vetiver, vanilla, ambergris.
cobalt amber
A sophisticated oriental, where bright pink pepper and juniper berry give this classic amber a modern twist. Top notes - pink pepper, cardamom, juniper berry. Heart notes - cacao, tonka, peru balsam. Base notes - amber.
green cedar
The unique combination of a twice distilled Texas cedar and wild harvested Atlas Mountain cedar make for a distinctive, intoxicating fragrance. Top notes - magnolia, cardamom. Heart notes - cypriol, guaiac wood. Base notes - Texas and Atlas Mountain cedar.
pink iris
Nose-tingling Sichuan pepper and fresh basil open this traditional floral bouquet where its namesake iris shines among a showstopping lineup of rose, jasmine, and natural musk. Top notes - Sichuan pepper, raspberry leaf, basil. Heart notes - orris root (iris), rose, jasmine. Base notes - vanilla, musk.
grey labdanum
A hint of bitter orange and violet open this cool labdanum rich fragrance where dark incense and ambergris collide with warm patchouli in a harmonious clash. Top notes - grapefruit, bitter orange, violet. Heart notes - patchouli, clary sagel. Base notes - labdanum. 
golden neroli
A luscious citrus floral that opens with a harmonious neroli and matcha tea accord, a rich jasmin sambac, petitgrain and ylang ylang heart and a soft santal base. Top notes - neroli, matcha tea. heart notes - petitgrain, ylang ylang, jasmin sambac. Base notes - East Indian sandalwood vanilla.
All Abel perfume is a 100% natural perfume. Every single ingredient, in every one of Abels perfumes, started its life as a plant. Abels fragrances are made entirely of essential oils, extracts and plant-derived scent molecules in a base of organically certified, food-grade grain alcohol.
Abel has been on a quest to create the world's best 100% natural perfume without compromising on ethics or aesthetics. Working with Sao Paulo based, Master Perfumer Isaac Sinclair, Abel creates the most long-lasting, unisex perfume smells in the most incredible scents. There truly is a scent for everyone. 
Founded in Amsterdam by former winemaker and New Zealander Frances Shoemack in 2012, Abel is on a mission to blend the pleasurable world of perfume, with the conscious simplicity of nature. Abel, now based in Wellington New Zealand is sold in 33 countries globally, to much acclaim. The Abel team has grown and so too has the collection - albeit at an organic pace. Abel's mission, while remaining steadfast, has also grown. No longer satisfied with making the world's best natural perfume, they are driven to have a positive impact both on the environment and the community.