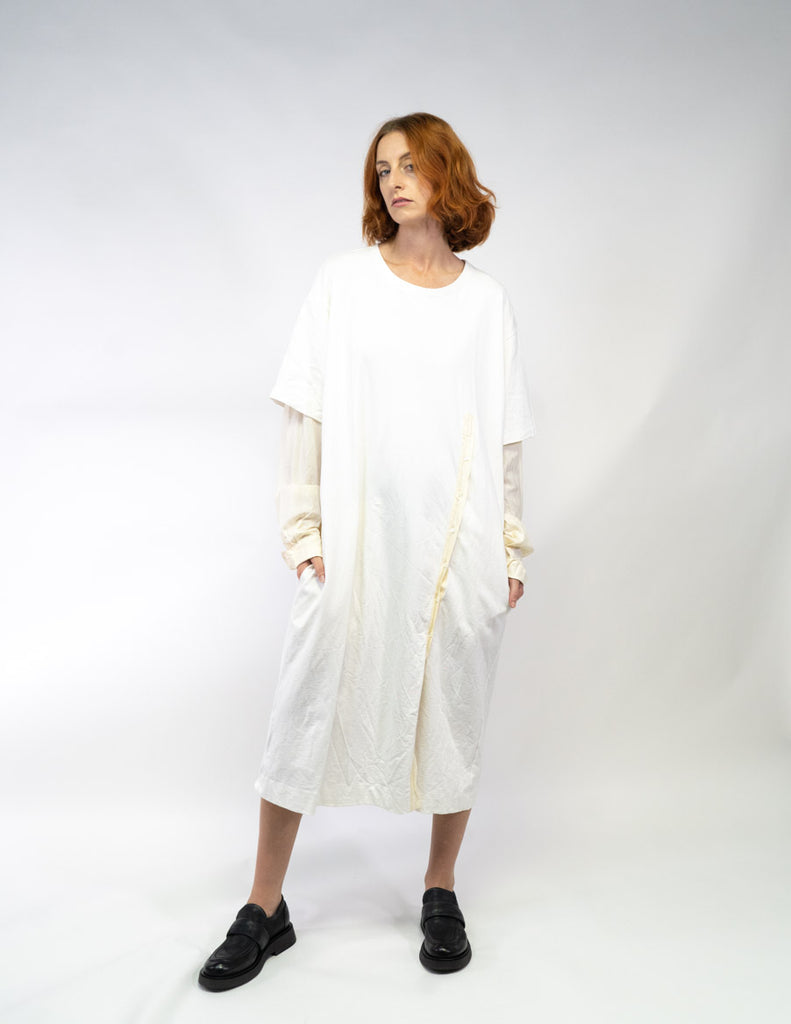 Lela Jacobs Japanese Cotton/Vintage Silk T Shirt Dress w Arms
$425.00
41558
The newest 'T..... Shirt' collection from Lela Jacobs is a trans-seasonal gem using only the finest ingredients of thick 100% Japanese cotton, 80's vintage Chinese silk sleeves and shell buttons.
A classic T-shirt dress length but if you feel the urge you can bang out a base knot for ventilation or show using the slit opening. A boxy fit so very flexible with sizing and includes pockets. If you like this dress then you may also love the version that has shorter sleeves. Shop this version here.
Lela Jacobs is a hands-on designer based in Aotearoa New Zealand, committed to long-form local manufacturing and considered environmental decision making. Working with principles of zero waste pattern-making, Jacob's places emphasis on the integrity and prior crafting of fabrics, treating garment design as a means to honour the meaningful labour, ecological impact and histories of fine textiles. Each collection is minimal and understated with an emphasis on strong design, innovation and androgynous appeal. A monochromatic colour palette of predominantly blacks, greys, whites, neutrals and specially commissioned prints, accentuate the conceptual silhouettes and strong lines of a Lela Jacobs collection.