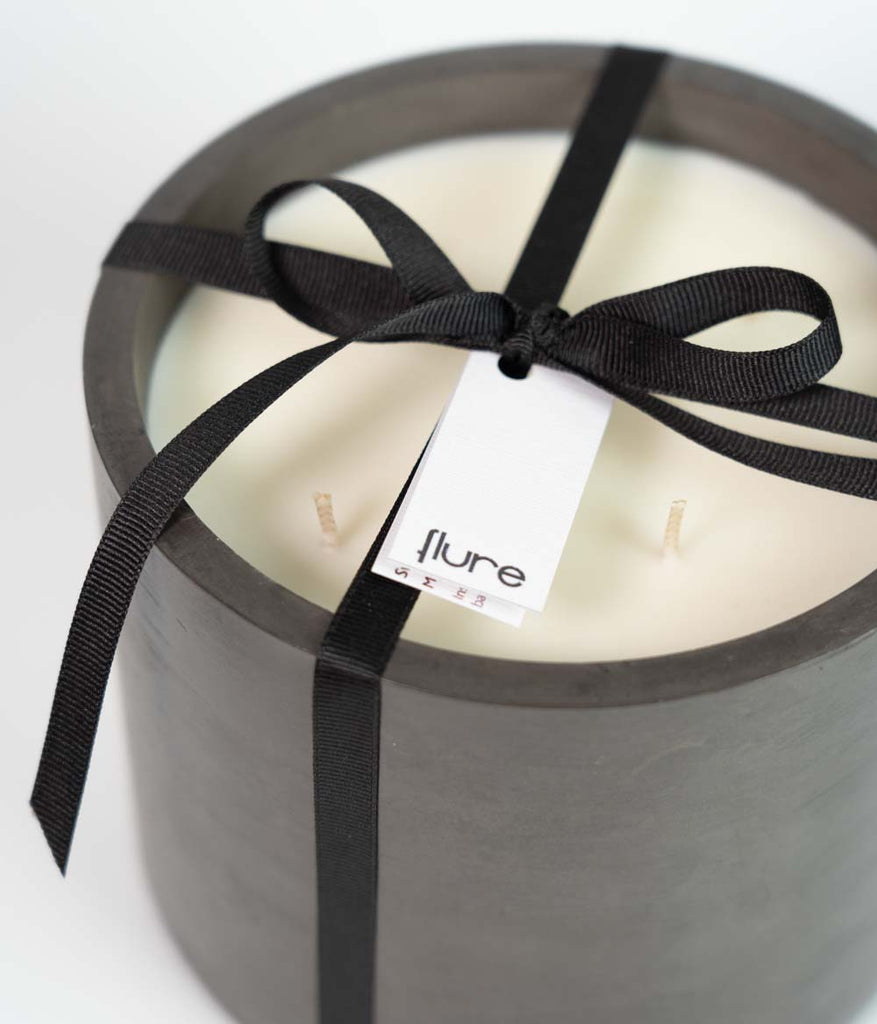 The ART of Flure Large Candle Collection
$190.00 $320.00
40572
Flure offers a curated collection of one-of-a-kind pieces of ART.
Designed to bring ambience, fragrance, and a statement to your space. Curated by et vous Marketing Manager Sheridan.

Flure candles have an unparalleled scent throw that's sure to fill your open space with a gorgeous strong scent. Featuring high-end scent profiles and vessels curated by hand. With every scent having undergone rigorous testing, to ensure it is strong and offers a perfect burn, every time you light it.

Scent Story:

'Toscana' - Tuscany in Italian
Let your senses take you on a freeing journey through the Italian countryside of Montepulciano, Tuscany. Enjoy the infusion of aromatic poppy-dotted hills, fortressed medieval towns and the rolling hills lined with Tuscan cypress trees, as far as the eye can see.

An aromatic scent to leave you feeling completely at ease. With delicate and divine notes, you will love the fragrant potency that will easily fill an open-plan room home with a true scent of Tuscany.

Scent Profile: Top notes of Tuscan Cypress Pine Trees, balanced with the essence of crisp Fresh Pear, blended with softer underlying notes of Star Anise and creamy Vanilla. Finished off with a splash of Jasmine to round the scent experience.
Scent strength: Strong. A lasting smell that you could pleasantly be around all day.
Forever lime

Inspired by the desire to holiday forever, where every care in the world is left behind, and your days are spent soaking up the smells of your favourite small coastal beach town, with your crushed lime cocktail in hand.
Let the freshness of the sea water's air-ground you and remind you of nature's peace, never wanting to leave the beach's side. Day turns to night and zesty Lime cocktails swirl around aromatic pleasures, as you dig your toes into the sand once more to watch another gorgeous sunset bring this perfect day to rest.

Scent profile: Smells like fresh Zesty Limes and Crushed Sea Salt with gorgeous subtle notes of New Zealand beach flower Gazania, and aromatic Driftwood with a Salty finish. Balanced with Jasmine notes and a soft yet sensual velvety white musk aroma, that adds depth and complexity to Forever Lime. 
Scent strength: Medium Strength. A lasting smell that will seep under every door and find its way into the furthest rooms of your space. A scent you could burn all day, it's that pleasant. 
Sweet Baby Jesus 
Oh "Sweet baby Jesus" was Inspired by two of the three gifts given to Baby Jesus when he was born - Myrrh & Frankincense.

Scent Profile: Top notes of Myrrh and Frankincense, with depths of Black Oudh to add a lingering moody presence. A masculine sensual scent that has a woody earthy depth and an inviting aroma of peace and tranquillity, that's comforting, oriental and smoky.

Scent Strength: Medium
The candles are handcrafted and the vessels are all slightly unique in colour formation due to their handmade nature. The vessels are made from a cement mineral blend and are 100% waterproof and heat resistant on the inside, as-well water resistant on the outside of the vessel. Allowing you to repurpose the vessel for an indoor plant pot, kitchen utensil holder and more.

Weight: 1.1kg Soy wax blend
Total weight: 2.1kg
Dimensions: 15cm width x 12cm height
Vessel colour: Off Black colour. 
The perfect gift when paired with the Gold Wick Scissors