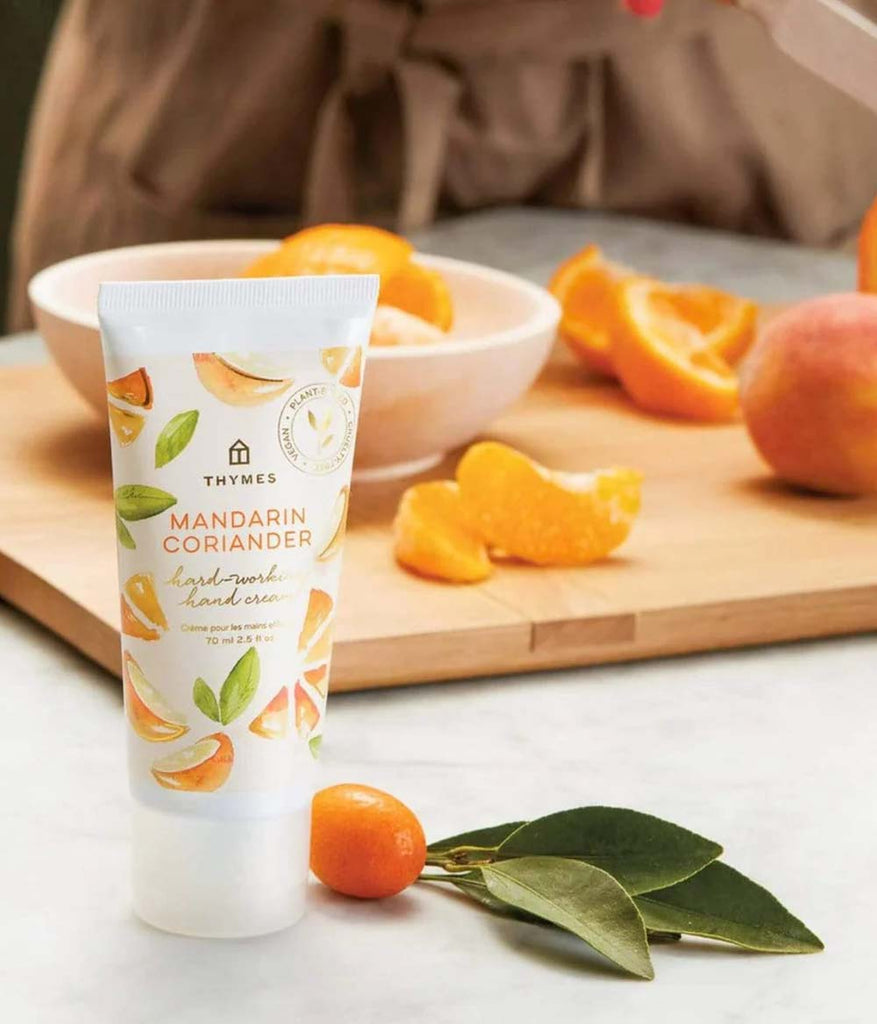 Thymes Mandarin Coriander Hand Cream
$40.00
40941
Replenish over-worked hands and cuticles with a seriously hydrating dose of shea butter, sunflower seed oil, and pro-vitamin B5 while the one-of-a-kind herbal and citrus blend of lively mandarin oil, robust coriander and vibrant grapefruit meld leaving hands freshly scented. Features a plant-based formula, cruelty free and vegan. Made in USA.
This one-of-a-kind herbal and citrus blend is like a breath of fresh air. Lively mandarin oil, robust coriander and vibrant grapefruit meld with calming lemon balm, green rosemary leaf, and warm cedarwood.
Some of our customer reviews: 
"Thanks to medications, my skin is a disaster area. This cream is the best thing I've found, among dozens of attempts. It takes only a small amount to cover both hands, and the result is a softening without a trace of greasy residue. I can, to be explicit, immediately use the iPad or phone after using the cream—it's that non-oily. I love the mandarin orange scent"
"I have been using this for a while and love the product"
"Tried everything. None of the lotions hat worked before we washed hands twenty times a day could hold up. This lotion is unusually good at making my hands not look so desiccated"
"Goes on thick and smooth but absorbs quickly without feeling greasy. Smells like a dream sickle! I absolutely love it. My hands need so much cream because I wash them constantly. This is one of my favourites for sure. I recommend if you're not worried about scented. My hands are very dry and this is gentle however and doesn't burn at all. But just wanted to mention that it is highly fragrant. I love the orange smell!!"


Over 30 years ago, Thymes was founded by two friends with a mutual curiosity and a common desire to make something meaningful and beautiful. Since then, the company has flourished thanks to a shared passion for creativity, botanical ingenuity, beauty and friendship. Today, Thymes is an independent company committed to artisan craftsmanship and dedicated to deepening connections through their love of fragrance — and, most of all, to creating fragrances that enrich the quality of your daily experience.